Home Source Mosaic Bistro Set Outdoor Patio Garden Furniture Table and 2 Chairs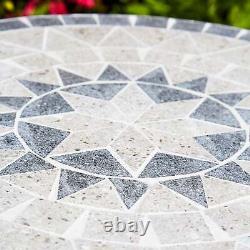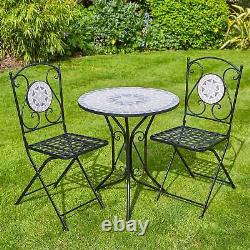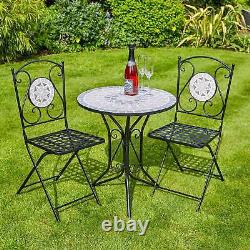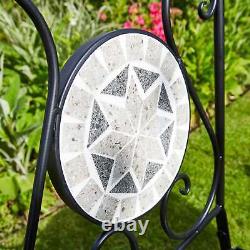 Dimensions: Size (H) 71cm (Diam) 61cm. Three Piece Mosaic Bistro Garden Set. Sturdy Metal Patio Set - Folding Table and Chairs for easy Storage. Ornate Mosaic Tiled Decorative Table Top and Chair Back. Details: Athens Circular Mosaic Bistro Set Mosaic Table with 2 mosaic chairs Part of our Bistro collection, our Athens Bistro Set is ideal for you home, your bar or your restaurant and has a bistro table with a beautiful mosaic top, plus two bistro chairs.
This Athens Bistro Set captures the essence of the Mediterranean instantly. So you feel like you're sat a bar or bistro or bar, eating and drinking with the warmth of the sun and just watching life. It's beautifully decorated with different shade mosaics surrounding a decorative centerpiece. With black metal legs, there is scroll detailing on the table legs for an extra touch of sunkissed style. The table is wobble-free because it has 3 legs. If you get a 4-legged table you could be forever wedging things under the feet to prevent it from wobbling. With this 3-legged table there's nothing to upset you, your drink or your mood. The seat is cleverly designed with a criss-cross mesh frame to support you, and the back has S-shape scrolls with a circular centerpiece of decorative mosaic pieces in a sunflower design. Even the low price makes you instantly relax. Because Athens Bistro Set comes from the Big Furniture Warehouse? Where you can celebrate excellent value every day, whether you're enjoying it al fresco or not. Product Dimension Table Size = (H) 71cm (Diam) 61cm Chair Size = (H) 89.5cm (W) 48cm (D) 37cm.